Munich Airport has a new corporate design, with a new logo, a new claim, new colours, new secondary style elements and a new typography.
LOGO
The old "M" remained and the coloured slant shall symbolize the new claim "Living ideas - Connecting lives".
TYPOGRAPHY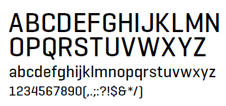 The font Munich Airport Pro specifically developed for Munich Airport is clear, straight and all in all a beautiful sans serif font. But: Isn't the € sign missing? It's nice to think of the $ sign. However, the font for a German airport should definitely feature the € sign.
COLOURS